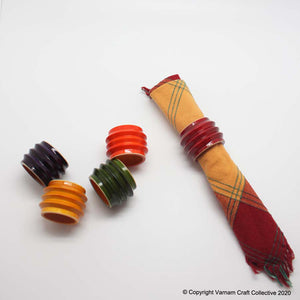 A bunch of five colourful napkin rings that add some colour to your dining area. Each piece has been pain stakingly hand-crafted by artisans from Channapatna using the traditional lacquer ware turning technique. The colours used here are a mix of natural and non-toxic colours. The wood used for all channapatna lac-ware products is completely safe and is 100% eco-friendly. Any irregularities on the wood are part of its natural beauty. 
DIMENSIONS
4cm dia x 4.3cm height
CARE INSTRUCTIONS 
All lacware products must be kept in shaded areas and must avoid direct exposure to sun. Avoid blows against hard surfaces. Please do not wash them with water. To clean use a mildly damp piece of clean cloth.Wood can react variedly to atmospheric changes which is beyond our control.