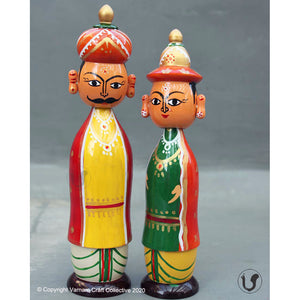 These are one of the oldest and most poular pair of traditional dolls from Channapatna. The form seems to depict a japanese influence, suggesting to the japanese 'revival' of this craft in the 1950s. (Tenshi ~ Emperor, Kogo ~ Empress in japanese) This pair is a part of our initiative to revive the traditional doll stories of Channapatna, Karnataka.  Each piece is made of wrightia tinctoria or hale mara, a safe and naturally seasoned medicinal plant wood. The wood is first turned on a lathe and then applied the base glossy colour using the traditional lac-turnery technique. They have been painted with safe, non-toxic colours. However not suitable for children. Please note that the colours may vary a little bit from the one in the pics.
DIMENSIONS
Lady - 9 inches height x 4.5 inches width
Man - 10.5 inches height x 5 inchesh width
CARE INSTRUCTIONS 
Not to be washed. To clean use a mildly damp cloth. Avoid blows against hard surfaces. Please note that wood being a natural material reacts differently to atmospheric changes which is beyond our control.