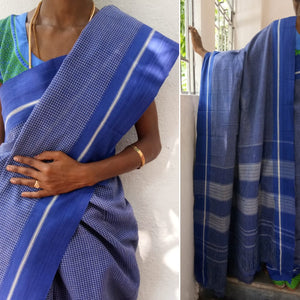 PATTEDA ANCHU is a traditional handloom weave from Karnataka made of pure cotton. Records of the patteda anchu go as far back as the 10th century. It was woven centuries ago in and around the villages of Gajendragarh, Belgaum, Raichur, Kodal, Bedar, Bellary, Gulbarga and Dharwad. It was considered an auspicious garment, offered to the temple goddess, Yellamma Saundatti when the daughter of a household got married.
Its beauty lies in its understated elegance and simplicity...a simple, coarse cotton weave with a broad border that was traditionally in red and mustard but today available in other colours too. The pallu comes in 2 shades in each saree. The length is 6.2 metres and comes with the blouse material included.
CARE INSTRUCTIONS 
Handwash is best for handloom sarees.