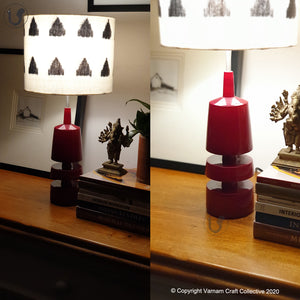 Our attempt to reinterpret the traditional toy craft of Channapatna translates into these one-of-a-kind statement lighting. The handmade paper shade is paired with the Trikone lamp base in a lovely mustard yellow. They also make great bedside table lamps especially in pairs. The fittings are of export quality. The lamp shade is made of handwoven ikat from Telangana, where the motifs resemble the gopuras or the temple tops.
PLEASE NOTE

The prices indicated are for the individual pieces (lamp base/ shade). You can buy just the lamp base or the shade as separates or as a set. 
DIMENSIONS
Shade (M) ~  10 inches dia X 8 inches height
Lamp base ~ 4inches dia X 14inches height
CARE INSTRUCTIONS 
To clean use a mildly damp piece of clean cloth. All lacware products must be kept in shaded areas and must avoid direct exposure to sun. Avoid blows against hard surfaces. 
You may remove the protective plastic sheet around the lamp shade before using. 
To clean the lamp shade please brush lightly with a feather duster.