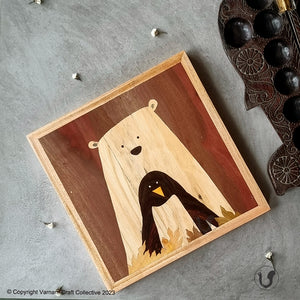 We often struggle to find relevant Art for Kids's rooms, don't we? This series of wall art is a contemporary twist to an otherwise traditional wooden inlay craft from Mysore. It is perfect for your little ones's rooms and also a great gift for animal lovers. It has been custom-made for us by Bhanu Prakash and his talented cluster of artisans at Mysore.
The Origins ~ The art form of wood inlay originated in Persia. A story goes that Shah Jahan invited some inlay artisans from Persia to work on marble while building the Taj Mahal. When the work was completed, many of these artisans migrated to different parts of India. Some of them came to Mysore and found patronage under the royal family of the Wodeyars who had them work on the Mysore Palace. His Highness Krishna Raja Wodeyar, H. H. Jayachamarajendra Wodeyar were the initial patrons of this art work. The In the early days, they would do ivory inlay on rosewood base. You can still find these inlay work on rosewood doors in the main hall called the Amba Vilas Hall.

 In the 1940s, an artist by name Shaukat Ali, who went to JJ school of art experiemented with this craft form and worked with different forms of wood due to the scarcity and spiralling costs of rosewood and ivory. Until then the craft was restricted to nobility. Thanks to his experiments, the craft work gained a wider appeal and this forms the base for the craft/art form as you see it today.
For a detailed account of this story, please refer to
https://www.shrenis.com/post/carved-in-wood-a-cultural-history-of-mysore-wood-inlay-artisans
The current craft process -  The craftsman has to spend several man hours to produce one good piece of inlay work. The work starts with a detailed sketch of the product having the dimensions and scale. The artisan cuts the relief from various coloured woods with utmost attention to detail. Then he works on the surface and cuts grooves on it to fit the spliced pieces of wood. The spliced wood is then fitted on the surface, nailed together, pressed in mechanical presses, and finally polished several times with some final touches.
Wood used here ~ Nerale, Doodi, Maddi, Rosewood, Patanga, Pinewood - on a pinewood frame pressed on plywood.
Dimensions ~13 x 13 inches
IMP NOTES -
To be used indoors only and not exposed to direct sun as wood can expand or crack when exposed to direct sun for prolonged times.